Mhdb sessions & dates. Booking German

The Mhdb sessions is a private Mhdb series of open-to-the-public events (such as: live recordings, rehearsals, guest musicians, etc). A Mhdb session may be held all over Germany or in a neighboring EU country, but usually one Wednesday evening a month (excluding: July/August, December/January) from 20:00 - 22:00 (8:00 - 10:00 p. m.).
Next Mhdb sessions:
Mhdb session example:
Mhdb session, "BumerangTrophue", 2014. Video, 3:24
From 2004-05 it was becoming too expensive to stage Germany-wide gigs. There were better ways to promote Mhdb, for example: self-organized sessions (by appointment: Germany & neighboring EU countries). Already from the mid 1990s on, Mhdb had managed to rent a disco or a conference room, which were usually closed on Mondays, about every two months. There, Mhdb simulated gigs or had the final rehearsal before a concert, under different acoustic conditions from the usual Mhdb rehearsal room, sometimes with an audience and a guest band, and including set-up and dismantling of the equipment. These sessions - also using playback - have increasingly replaced the official performances and concerts, since like this Mhdb have made at least as well or even better progress.
Nevertheless: booking is possible (please see contact information). No 'playing for the door'.
The Mhdb sessions started in 2005. And in The Open Mhdb Band (2005-10) the missing musicians were replaced by self- and computer-generated playback (vice versa: The Virtual Mhdb Band). At the same time The Virtual Mhdb Band started: The live songs by Mhdb, which have evolved since around 1990, were systematically digitally reworked in the Mhdb style between 2005-10, and have since been available as a computer-generated Mhdb real book containing standards, which have been interpreted by The Mhdb Session Trio (regular live line-up since 2010) as 'Mhdb standards' on the Mhdb sessions and which were fully documented on live video in 2016.
The live and computer versions are interdependent because the Mhdb live song versions have been evolved from the Mhdb computer song versions, and vice versa. - From October 2017 to April 2018, the computer-generated Mhdb real book & standards were updated. The Mhdb videos are kept up-to-date by replacing an old one with a new one and continue to 'rawly & simply' document the Mhdb development.
A completely new step for Mhdb would be to play simultaneously together over the internet with musicians in far-flung parts of the world, thus virtually form bands, e. g., via Ejamming.com. This is why Mhdb call themselves an 'incipient e-jam band'.
All in all, the Mhdb sessions are a major slot in which Mhdb's live, virtual, and ejamming activities take place.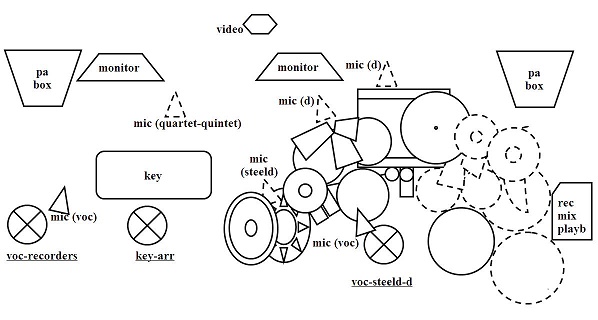 The Mhdb stage plan

Barbara Nespethal (voc-recorders)
Anton Cik (key-arr)
Wolfgang Billmann (voc-steeld-d)
...
Guests (quartet-quintet)
The 'Mhdb real book & standards'

Interpreted by The Mhdb Session Trio live on the Mhdb sessions
Computer-generated 2005-10
Updated 2018